Shepherd's Fold Box Finishing
Shepherd's Fold Finishing Instructions


These instructions will help you finish your
Shepherd's fold kit, A Full Heart, to fit into your
Plum box the way we finished ours. Find a clean dry work space. I put a tablecloth down first to keep everything from slipping. Here is a list of all the supplies you will need. You can find these things at your local shop, or the batting can be picked up at JoAnn's. We would be happy to send you any of the supplies you might need. Please read through all these instructions before you begin, so you know what you are doing.


1. A heavy piece of cardboard- I used the back of a tablet or a cardboard box. It needs to be heavy enough that it will not bend easily,
2. batting- I used Warn and Natural, a cotton batting- about 18" x 24", you could use any kind of batting, but not fiberfill,
3. heavy thread- I used white # 5 perl cotton but any strong thread will work
4. large eyed needle
5. paper scissors and nice fabric scissors
6. ruler or measuring tape
7. pencil
8. stitchery mounting tape


Step 1- Cardboard circles
Take the wooden circle out of the top of your box and trace around it on a piece of heavy cardboard. Now cut it out. It needs to be just a bit smaller than your wooden ring.



Step 2 - Batting circles
Using the wooden ring again, trace around it onto your batting. You will need 3 full size circles and 2 smaller ones. just eyeball the smaller ones. I used Warm and Natural- a thin cotton batting.

Step 3- Stack
Layer these things as follows: on the bottom is the wooden ring, next place on the cardboard and then layer the batting circles. Next to the cardboard place a large circle, then a small one, then a large corcle, then a small and end with a large circle on top.


Step 4- Measuring your stitching
Now it is time to make a circle around your stitching. Place your stitching face down on the table cloth. You are to be working on the WRONG side of your stitching. Measure out from your stitching 3 inches- if your stitching is centered perfectly you should have about 3 inches out on all sides, if you do not have that, you will have to fudge a bit. It is OK--you have lots of fabric. I made a pencil mark at 12:00, 3:00, 6:00 and 9:00 - three inches out from my stitching. These tick marks will be your guides to make your circle. You can use anything you want to draw a circle. I used a clean, dry pizza pan, lined it up with the tick marks and lightly drew around it to make a circle. Remove the pizza pan and check to see if it looks centered. If not--redraw your circle. Your circle will be about 12 inches around with your stitching centered inside it.


I know you are worried...but if you have doubled checked your circle, it is going to be fine. Use your good scissors, take a deep breath, and CAREFULLY cut just outside of the pencil line you just drew. You will be cutting 3 inches beyond your stitching, and you will have a circle that is about 12 inches wide.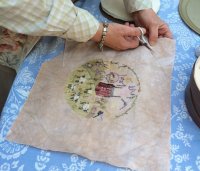 Sept 6- Gathering
Thread your big needle with a long, long strand of heavy thread. I used about a yard of # 5 white perl cotton. Tie a big knot in the end of the thread, and starting anywhere around the circle, make basting stitches around the perimeter. I stitched about 1/4 of an inch in from the edge. You do not want your stitches to be too close to the edge as they might unravel when you pull in the gathering stitches. Make your stitches even and not too big.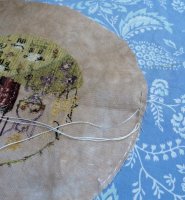 Next, gently pull the knot end and the other end until your fabric begins to curl up. Place the stack of the ring, cardboard and batting in the center of the stitching. Place so the batting is next to your stitching and the wooden ring is facing you on top of the cardboard and the batting. Begin to gently pull both ends until your fabric is gathered around the stack of batting and cardboard. Pull tightly.



Before you knot your thread, flip your stitching over and double check that it fits into your box lid. If it is too big, you can go back in and trim it all down, but it will probably be a perfect fit. At this point, I look carefully on the front to make sure that my stitching is still centered in the circle. You can still gently press and push if it needs to be adjusted a little. Once it is just how you want it, knot your thread a couple of times. I even threaded the ends onto the needle and took a couple of stitches in the fabric to keep it secure. Here is a hint- do not trim your long strands of thread, they help you get your stitching in and out of your box lid while you are still working. Let them dangle off the side until you are finished.



Step 7 -Finishing
You are almost finished. Yay! Stephanie from Lone Elm Lane, suggests that you trim a piece of muslin the size of the back of your box and blind stitch it onto the back of your piece. I think that is a great idea, and you could try that if you want. I was a little worried about puckering the smooth edges around the piece, so we just went on to securing it to the lid of the box. I used three pieces of stitchery mounting tape to anchor our lid into the box. This tape has a sticky side and a paper side. We stuck the tape to the back of the stitching and then peeled off the paper backing--good luck with that-- and placed it into the lid of the box. You are done!!!!! Great Job.