Lizzie Kate Christmas Mystery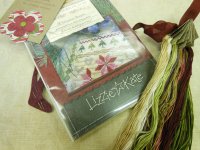 Lizzie Kate Mystery- Heartys and Holly
We are having so much fun with this sweet Christmas piece. Please call us to join in the mystery. Parts 1 and 2 are out- Part 3 will be available next month. We are using our own beautiful hand dyed fabric called Christmas Cake. It is creamier than our photo on the left, and we have tweaked the colors. You may have your choice of 28, 32, or 36 count fabric and the price for the complete kit runs $70.00 plus shipping. Just think a lovely piece done just in time for Christmas.