Shepherd's Fold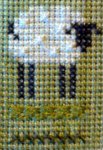 We are excited to announce, that Shepherd's Bush is getting ready to begin a new Shepherd's Fold, and here we are... ready to embark on the best Fold ever. If you join us, you will be promised a year of fun, excitement and wonderful projects. Yippee! This Fold is going to be a delightful little sewing box filled with sweet and lovely necessities for the true stitcher. We will begin in March and send out a new little treasure to stitch about every other month. Projects will be stitched on 32 count hand-dyed linen with a gentle palette of lovely silks.
If you are interested, give us a call or get more details through your favorite
needlework shop.
Be sure to keep checking on this link of our website to see the progress of this fabulous project.

Thanks to all of you who have joined up for this fun, new adventure--whether with us or with your shop. Teri and I are very excited and the whole shop is busy with the plans. Unfortunately, our linen which is being hand-dyed especially for us, is taking a bit longer than we had anticipated. We ordered it in October and are still a little impatiently waiting for it to make its way to Utah in many shipments. Stagecoach? Perhaps. But don't despair, it will be to you before you know it. And we are going to have a blast, so get your stitching fingers ready.